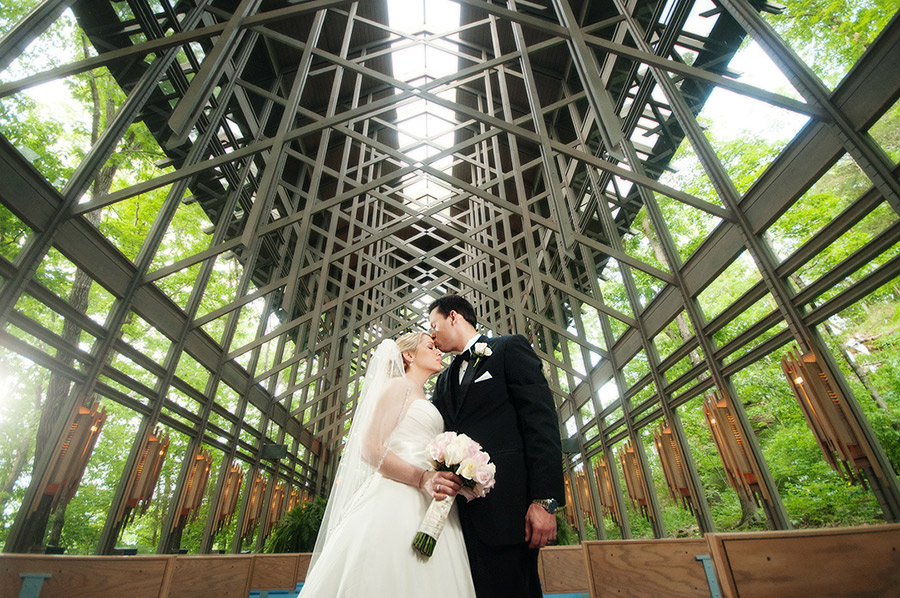 Weddings
Thorncrown Chapel is Eureka Springs' premier wedding location. Since 1980 people have come from all over the world to get married at this beautiful glass cathedral in the woods. Surrounded by beautiful rock formations and a canopy of trees, the chapel provides an unforgettable setting for your wedding ceremony. Because Thorncrown has over 6,000 square feet of glass and 425 windows, your wedding can be outdoors and indoors in air conditioned comfort at the same time.
Our experienced staff has been coordinating wedding services for over 40 years. We provide both a minister and a chapel host to make sure your ceremony is as care free as possible. Of course, you are welcome to bring your own minister if you so desire.
The chapel seats up to 100 guests. Our facilities also include a changing area with a full length mirror, a first class sound system, and a piano. Because of the unique acoustics of Thorncrown Chapel, listening to live or recorded music is a special experience. We can help you locate stringed quartets and other musicians to add beauty to your special day. For more information see the FAQ secton below.
Prices
Sunday through Friday (1½ hour reservation) $950
Saturday (two hour reservation) $1295
Elopement Special (just the couple, one-hour reservation, Monday through Thursday only, sound person not included) $500
If a rehearsal is essential (In case of a large wedding with musicians, many bridesmaids and groomsmen, etc.), you may rent the facility for one hour. Our chapel minister or host will attend your rehearsal to help you coordinate your ceremony. There will be an additional charge of $500, and reservations must be made for the rehearsal as well as the wedding.
We must receive payment in full when you schedule your wedding. The payment is not refundable. We accept MasterCard, Visa, and Discover cards.
Thorncrown Chapel only provides the facilities, a minister for your wedding, and a soundperson. However, you may desire a photographer, flowers, candelabras, musicians, minister (if staff minister is not used), reception, rehearsal dinners etc. These are all available locally in Eureka Springs.
Facilities and Equipment
The chapel and grounds are available for your use. A piano, a sound system, CD player, recorded wedding music, small restrooms, and an office with a full length mirror are offered for your convenience at no extra charge. No warranty is made as to their condition or suitability for your wedding. The chapel is not responsible if any of these are not available due to breakage, bad weather, etc.
Any decorations brought to the chapel must be approved prior to the wedding day. Please, no asparagus ferns. For safety reasons, please do not use an aisle runner and have your flower girl use silk petals.
Not provided are: a reception area, organ, or drive up access. The chapel is 250 feet down a pathway from the parking lot. Vehicles may not come closer. Local motel/hotels are recommended for dressing rooms and reception areas.
Thorncrown Staff
A full time minister is available to conduct your service. There is no additional charge, however if you are pleased, a gratuity is welcomed. We also provide a sound person to run our sound system for your wedding. Should you decide to bring your own music, please burn your selections to a single CD.
How to Schedule Your Wedding
Early notice is helpful, especially during the summer months. From April 1st through October 31st weddings may be held either before the chapel opens to the public in the morning or after it closes in the afternoon. Chapel hours vary from month to month.
Please call to schedule the time for your wedding. (479-253-7401 If you get our answering machine, please leave your name and number and someone will get back to you within 24 hours.)
From November 1st through March 31st your wedding may be scheduled during any time of the day.
After you have scheduled your wedding, please sign and return the chapel reservation agreement and the reservation coupon.
Other Rules and Requirements
No smoking, food, or drinks are allowed on the chapel grounds. Please be sure your guests are aware of this. We only allow bird seed to be thrown. It may not be brought down the trail to the chapel. It must be distributed and thrown only in the parking lot. Bubbles are allowed but only in the parking area. Seating is limited in the chapel, so no more than 100 guests may be invited. The Chapel reserves the right to ask any guest to leave the premises immediately.
Please do not arrive before your scheduled time.
Marriage licenses must be obtained in the state of Arkansas. They may be obtained in any county courthouse. There is one in Eureka Springs. No blood test or waiting period is required. Thorncrown Chapel will not allow weddings that are not authorized by the laws of the state of Arkansas or that violate the by-laws of Thorncrown Chapel.
Out of state ministers must register their license at a county courthouse in the State of Arkansas prior to performing a wedding in the chapel. Guest ministers must send a copy of their wedding ceremony eight weeks prior to the wedding. Since Thorncrown Chapel is a Christian organization, all ceremonies must be Christ-centered and scriptural. The chapel reserves the right to refuse any ceremony or part thereof not in accordance with the by-laws of Thorncrown Chapel.
If you have any questions regarding your wedding, please call the chapel office: (479) 253-7401.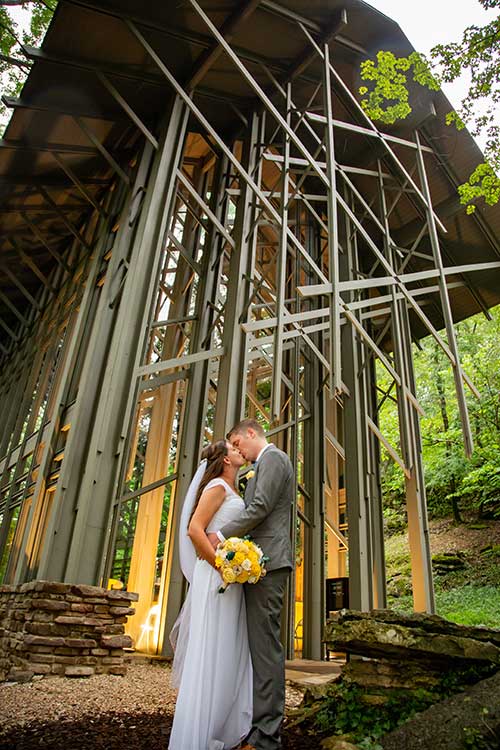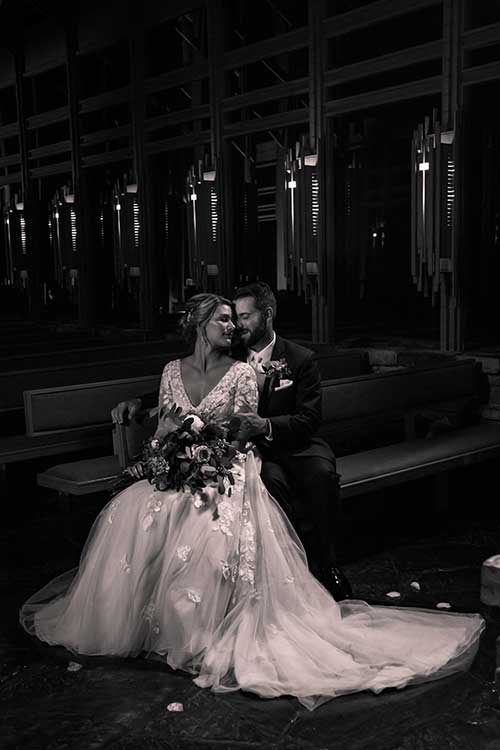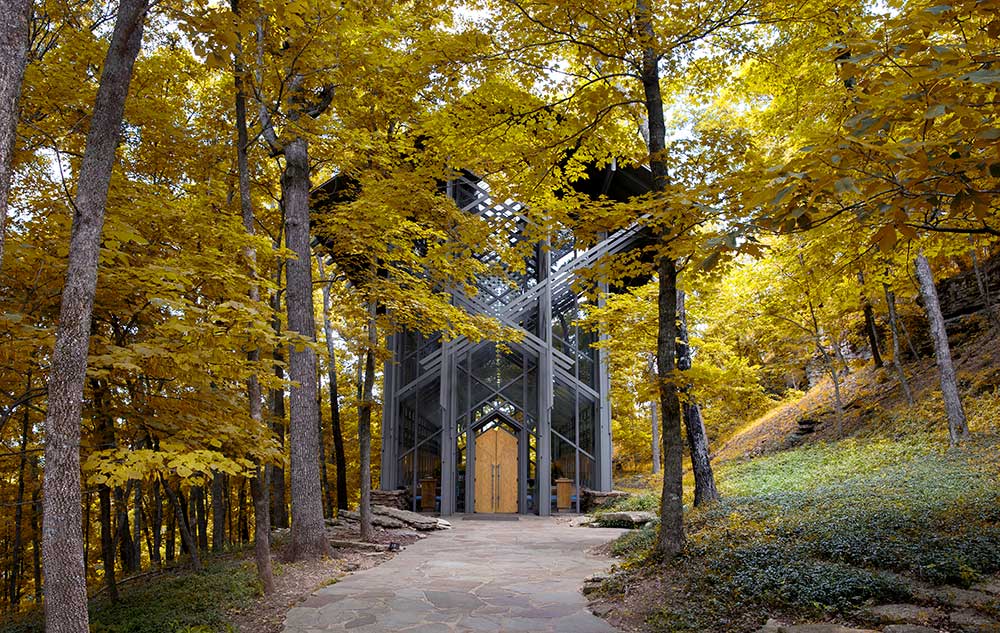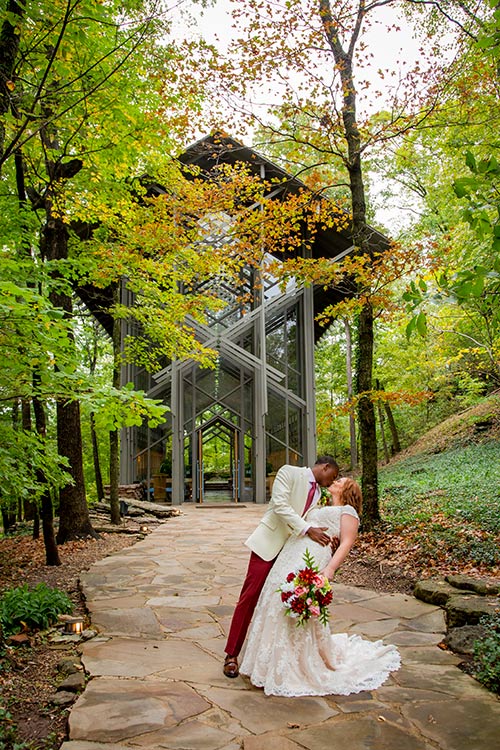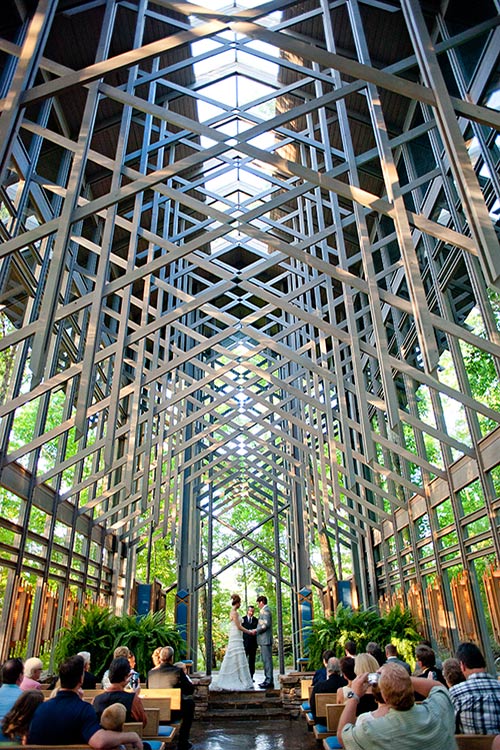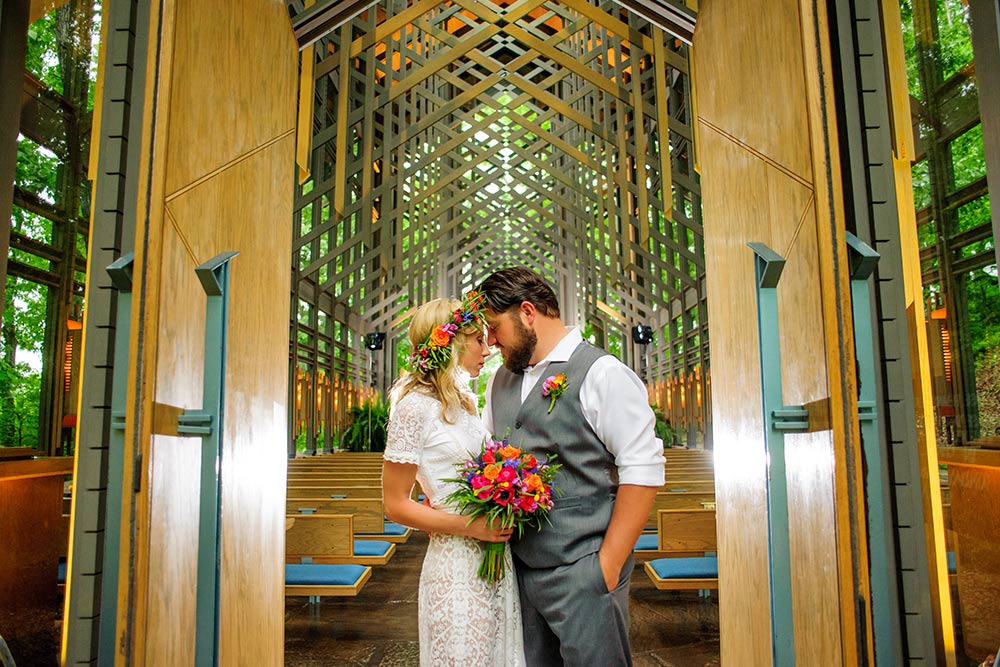 Pictures don't do it justice! This place is the most breathtaking experience I've had, and I couldn't have made a better choice for my wedding place. The Thorncrown chapel crew was always there to help us with all our questions, and we want to say a special thank you to our minister, Doug! We loved it, and we recommend it 100000% - Ana Bárbara Gainor
Our wedding was beyond beautiful and picturesque! Cheryl was very helpful and the minister, Doug, was so incredibly kind! We couldn't have asked for a better day! We definitely recommend Thorncrown if you're looking for a woodsy chapel with God at its center. If you don't do anything else, just stop by, have a sit, say a prayer, and admire the architecture.- Kathryn Hall
Images by Ashley Kimbrough, Susan Storch, Trinity Ridge, and Jason Hudson